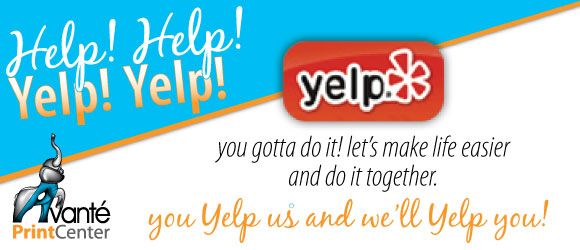 Do you have a listing on Yelp.com? You should!
It's a great way to get customers talking about your business! It's social, and social is ALL the rage! Potential customers are constantly searching Yelp.com for vendors. The more reviews you have the higher you'll be in ranking when someone searches for your genre of business. You Yelp us and we'll Yelp you! This is a great opportunity for us all to build our ranking and credibility. Let's Yelp each other out!! There's a button above this article in red that will take you to our Yelp page, click, sign-up and write us a short review, good or bad! We want it all and we will do the same for you. Thanks in advance!
we love our customers!
Every time you come to us for your printing, design and promotional needs you help support local business and grow the Arizona local economy. That is awesome.
Are you interested in sending out a monthly company eNewsletter sort of like this? Let us know.
SHOUTOUT SHOWCASE
Boyett Family Rayne Water Conditioning
Boyett's offers drinking water solutions for Commercial & Residential customers. They offer products and services ranging from whole home solutions to more simple drinking water cooler/dispensers. They even offer Salt-Free & Alkalinity Water Systems!
About Us
Boyett's Family Rayne is the oldest continuously owned company of it's kind in Arizona. We opened in the 1960's and have been family owned ever since. Multiple generations of our family is servicing multiple generations of Arizona families. We are here to stay.
The Boyett family has hands-on involvement in all aspects of the day to day operations to ensure that our customers receive the highest level of service. Boyett's Rayne Water Conditioning is a Licensed Registered Contractor. Our company employs all technicians who will install and service your equipment. We feel it is important that the people we send to your home or business are trained by and accountable to our dealership in order to enable us to control the quality of workmanship.One of the reasons why we've been successful is because we do things differently from our competition. And it begins with our philosophy about how we conduct business. We believe that our clients make the best decisions when they have all the facts.
Our experienced management staff responds to sales and information inquiries. They're not financially dependent on commissions and they don't pressure anyone to "buy now!" Instead, they share their knowledge of water conditioning systems and plumbing.
Our Products
• the Eliminator B100 - A SALT-FREE SYSTEM!
No more bulky bags to handle! This is a salt-free system that eliminates chlorine with carbon filtration. In conjunction with our portable exchange tanks it also eliminates calcium, magnesium and hard water. This water improvement system environmentaly friendly and virtually maintenance free! Learn More
• Classic Reverse Osmosis
Available for rent or purchase. Reverse Osmosis removes many types of large molecules and ions from solutions. All units come standard with a leak controller and hot/cold options are available. Learn More
• Alkalinity Reverse Osmosis
All the benefits of Reverse Osmosis with added alkalinity. Reverse Osmosis can leave water slightly acidic and alkalinity can have many health benefits. All units come standard with a leak controller Learn More
• RF Series Water Conditioners
Efficient and affordable - RF Series Water Softeners feature a dependable industry proven control valve costing about 10 cents per month to operate. This unit will leave your customers with cleaner clothes, softer skin and sparkling glassware. Learn More
Boyett Family Rayne Water
38 E. 5th Ave. - Mesa, AZ 85210 - 480-969-7251