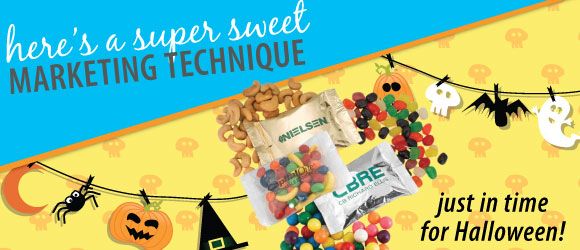 Get The Word Out About Your Business This Halloween!
Everybody likes a sweet treat! Seize the opportunity for some tasty marketing.
Halloween is almost upon us! Soon the streets will be filled with cute little ghosts and goblins running from door to door in search of candy to fill their pillow cases and bellies. Many parents regulate their kids' candy, making this a great opportunity to get your business info in front of their eyes.
We have a great selection of custom candies available at our website. Click to browse!
No room in the budget for custom candy? If you like the idea, but don't have the turn around time or budget for custom candy, you could always attach a business card to a piece of chocolate or any candy of your choosing. You'll still make it into the candy bag and that's what's important. We can whip up business cards pretty darn quick! If we've done them for you before, just call (480-969-4888) or email (orders@avantepc.com) us for a re-order. If not, you can always use our Design Online feature! Check it out now at . If that's not your style, call our office and we can design something completely custom. We're here to please you!
we love our customers!
Every time you come to us for your printing, design and promotional needs you help support local business and grow the Arizona local economy. That is awesome.
Are you interested in sending out a monthly company eNewsletter sort of like this? Let us know.
SHOUTOUT SHOWCASE
Tropical Breeze Frozen Drinks
Tropical Breeze Frozen Drinks helps the small business owner capture his slice of the 30 billion dollars a year that will be spent on frozen beverages by 2014.
We supply the best tasting frozen beverages available along with the best in equipment and support to keep the drinks flowing and the customers coming back.
Tropical Breeze Frozen Drinks is an authorized distributor for Ice Age Frost brand mixes from the makers of the original Orange Julius and Slurpee brands and other fine juice products since 1947.
We have Renter, Retailer & School programs.
Our quality products are made from up to 100% real fruit and are fortified with vitamins A, C and D.
We serve and provide free delivery to the entire Phoenix metro area.
Tropical Breeze Frozen Drinks
Call 24 Hours a Day!
602.441.5414