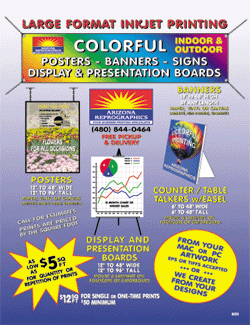 At Avante Print Center in Mesa, we produce beautiful vibrant full color prints up to 48" wide by most any length on a wide variety of media, from production resolution of 300 dpi up to high quality 1440 dpi prints.
Medias include non-coated paper, coated photograde matte or gloss paper, regular vinyl, scrim vinyl or adhesive back vinyl and a few other special medias.
Mounting is available on foamcore, gatorboard, sintra and other special order substrates.
We recommend laminating all prints for protection against abrasion and to improve resistance to sun fading.
Framing, easel stands, grommets, and border stitching to re-enforce banners is available.
We will print from your digital files . . . or we'll design and create what you want from your directions.
Products
FlyersCustom Printed Flyers for Business
Services