Manuals/Employee Handbooks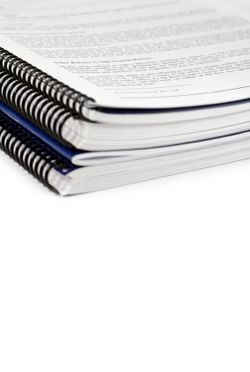 Printed Business & Instructional Manuals
Manuals are all about building your brand and your business. Printed manuals are an effective way for your business to maintain standards, and we will print every type of manual your company needs, including:
Training Manuals
Employee Handbooks
Booklets like song books and programs
Workbooks
Government Training Manuals, including classified materials
Practice Exams and Exam Booklets
We offer custom manuals, workbook printing, and  instruction manual printing. We can bind your manuals with cheap spiral bound printing -- affordable, not in quality -- saddle stitch, 3-ring binders, comb, and perfect binding.
Manuals can include pull-outs, tabs, color and black-and-white printing in the same book, photos, pictures, slides, charts, graphs and more.
How much does it cost to print a manual?
Get a quote using our quote tool! Pricing will depend on quantity, colors, binding, features, and the size of each manual. 
Get Your Manuals Printed at Avante' Print Center
At Avante', we pride ourselves in offering the best service around. We put full effort into exceeding your expectations and delivering the best manual printing services in the Valley. 
Call our shop and talk to our experts at 480-969-4888