Printing and Binding Services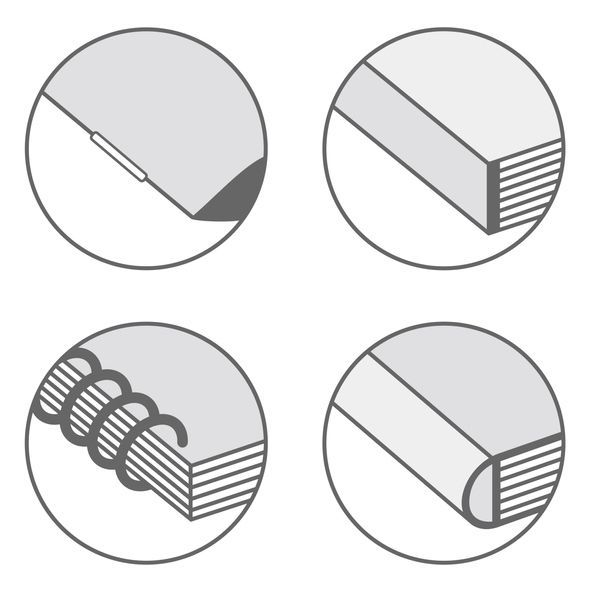 Printing and Binding Services near Mesa, Arizona
From self-published books to training manuals, Avante' Print Center offers the binding you need to make your documents look professional with durable binding. Our printing and binding services provide everything you need to print just a few copies or do a large run. 
You will be able to choose your book's paper quality, color, or black-and-white, as well as other enhancements and finishes.
Our print and binding services are great for:
Thesis Papers
Presentations
Sales Proposals
Self-published Books
Workbooks
Training Manuals
Employee Handbooks
You name it!
Call our designers now at 480-969-4888 or submit your document using our quote tool! 
What Are The Types Of Print Binding?
We have just the right binding for your document, including the following:
Perfect Binding or Perfect Bound: This is the binding you see on a paperback novel, but it's also great for manuals, workbooks, presentations, and more.
Coil Binding: This is the good old "spiral bound" you're used to. Great for manuals, workbooks, presentations, and proposals.
Comb Binding: Comb binding is great for schools, businesses, and training companies that need a document to lay flat on a work surface.
Tape Binding: Tape binding does not require any hole, as the book is bound using binding tape on the spine. Binding tape is available in an array of colors to help you match your branding and design.
Velo Binding: Velo binding is most popular in the legal field, with lawyers and paralegals and their documents. It involves punching a few holes in the document, and rigid, plastic spines hold the document together.
Wire Binding: Wire binding is a series of double-wire loops. It allows the document to lay flat.
What Is Offset Printing And Binding?
Offset printing is what you think of when you imagine a printshop: printing machines transferring ink to paper, in both color and black-and-white. With our offset printing services, you can print anything from invoices to business cards, letterhead, newsletters, brochures, posters, and more.
Get A Printing and Binding Services Quote!
Call our designers now at 480-969-4888 or get a quote using our quote tool!